Craig & Cindy Tellerd

SUPPORT THE KEY WEST ANIMAL SHELTER!! GO TO www.fkspca.org AND MAKE A DONATION!!
Join Craig's Facebook as a friend to receive notification of all Key West rental discounts & specials
and to keep up with the Tellerd Family: Click Here to Join!!
<![if !vml]>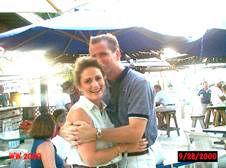 <![endif]>
Married:
September 24, 1988

Reside:
Westlake, OH (suburb of Cleveland)
Key West, FL (aka "the rock" or "paradise")

Passions:
Reggae Music and music of all kinds, Key West (especially the Green Parrot), the Caribbean, Robert "Nesta" Marley, Jimmy Buffett, Kid Rock, Michael Stanley & Jonah Koslen (no knock to Bruce but Michael is the author of the best song lyric ever written..."thank God for the man who put the white line on the highway"), Cleveland Indians (go Tribe!), dogs and animal rights, animal rescue, a world with nothing but no kill animal shelters, good friends and good times (as the late great Warren Zevon says…"I'll Sleep When I'm Dead"), family, and most importantly...Carly, Alexis & Mallory (and Craig wishes to also add his passion for Rolling Rock...although in the low carb world we live in today....Rolling Rock lite)!

Children:
Carly Rachel and Alexis Maya Tellerd (twin girls born July 29, 1997)
Carly graduated from New York University, lives in NYC, and works in the entertainment industry and sees more Broadway shows in a month than most see in a lifetime!
Alex graduated from High Point University with a finance degree and is currently in her last year of law school at George Mason University and lives in the DC area.
Pups:
Fletcher (named by the shelter that saved him...our "little man")
Mallory (named by Alexis after Mallory Square in Key West)
Nesta (aka "stinky pete", "hurricane nesta" & "hell boy"...but loved just the same!) (deceased 1/8/16 but will never be forgotten)
Shaggy (deceased 5/4/13 but will never be forgotten)
Marley (deceased 1/27/06 but will never be forgotten)
Ziggy (Marley's sister-deceased in 1998 but always in our heart)
All but Mallory & Fletcher named after Reggae artists (Robert "Nesta" Marley, Ziggy Marley & Shaggy)
Business #1: Tellerd Organization, Ltd. (founded 8/29/89)
Craig & Cindy work together along with staff CPA's in providing tax, financial, and business consulting to individuals and entrepreneurs with a specialization in real estate, food & beverage, financing, tax planning, and tax preparation for individuals, partnerships, limited liability corporations, and S-Corporations.  As both a CPA & Attorney at law as well as a small business owner, Craig provides both a unique perspective and practical approach to his clients.  The Tellerd Organization prepares over 300 tax returns each year and actively consults and advises many clients, with a specialty in investment real estate.  Click Here to Read More About The Tellerd Organization!
Business #2:      Craig & Cindy's Vacation Rentals (founded 12/28/96)
In 1996 Craig and Cindy turned their love of Key West, FL into a second business with the purchase of their first rental property.  Purchased primarily for a second home, Craig & Cindy produced their own website for purposes of trying (at that time) the new concept of advertising rentals via the world wide web.  Hoping to rent a few times a year to help with the second home expenses, Craig and Cindy quickly realized they had a talent for the business.  By maintaining a first class property and emphasizing customer service, Craig & Cindy within 6 months needed to add a second property in Key West.  Soon thereafter they added rental properties in their second favorite destination, Hilton Head Island.  In the past twenty-five years, Craig and Cindy have owned and rented more than 30 properties in Key West and Hilton Head and now also assist other owners.  By the number of repeat guests that return to Craig and Cindy's Vacation Rentals each year, it appears Craig and Cindy's passion for treating each property as their second home and each guest as a friend has made for a successful second business.  Click Here to Read More About Craig & Cindy's Vacation Rentals!
<![if !supportEmptyParas]> <![endif]>
Other Craig & Cindy Links (Click Here to Email Us):

Click Here to Return to Our Main Menu for Craig & Cindy's Vacation Rentals

Craig & Cindy Tellerd
440-899-1285 or fax 440-899-1295
email: craig@tellerd.com
website: http://rentmyparadise.com